CAEA Geographical Regions and Area Governments
You can edit text on your website by double clicking on a text box on your website. Alternatively, when you select a text box a settings menu will appear. Selecting 'Edit Text' from this menu will also allow you to edit the text within this text box. Remember to keep your wording friendly, approachable and easy to understand as if you were talking to your customer. You can edit text on your website by double clicking on a text box on your website. Alternatively, when you select a text box a settings menu will appear. Selecting 'Edit Text' from this menu will also allow you to edit the text within this text box. Remember to keep your wording friendly, approachable and easy to understand as if you were talking to your customer
CAEA Regions
The California Art Education Association consists of three geographical Regions: Northern, Central, and Southern. Click here for a detailed map of the CAEA Regions and the counties included within each CAEA Region.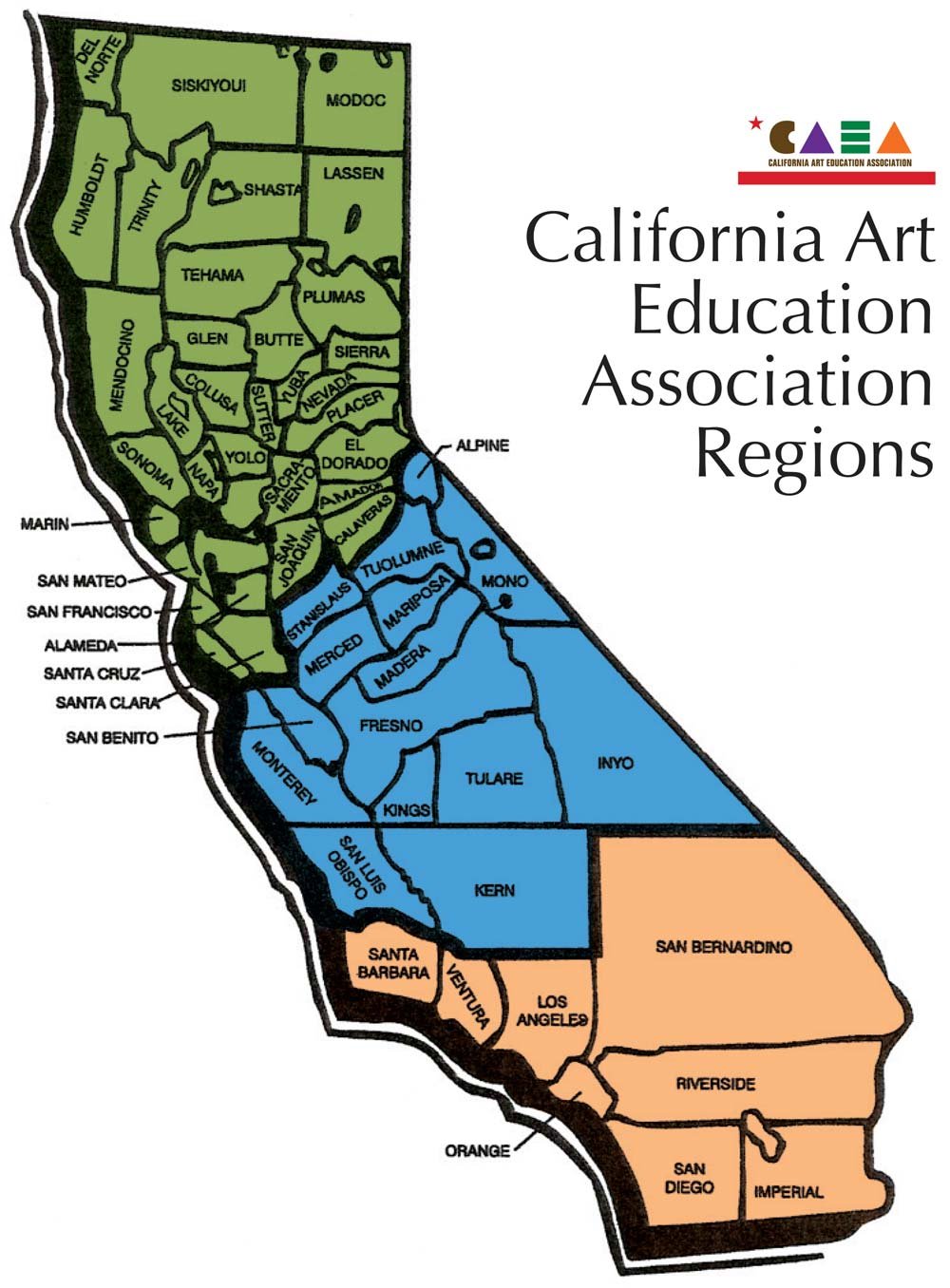 CAEA Areas
Each CAEA Region consists of one or more CAEA Areas that is composed of members within geographic parameters of the Region; each Area is required to have governance in the form of an Area Council composed of elected officers including a President, President-elect, Past-President, Secretary, and Treasurer. A CAEA member is automatically affiliated with the Region and Area in which the member resides or works.

CAEA currently has four Areas:
• Central Area (composed of members in the Central Region)
• Northern Area (composed of members in the Northern Region)
• San Diego Area (composed of members in the Southern Region who reside or work in the geographic area in and around San Diego)
• Southern Area (composed of members in the Southern Region who are not part of the San Diego Area)

CAEA Divisions
CAEA members can be part of one or more of seven Divisions, as defined by NAEA. CAEA Division Directors represent CAEA members in each of these Divisions:
• Elementary
• Middle/Junior High
• Secondary
• Preservice
• Higher Education
• Museum Educators
• Administrator/Supervisor

Division Directors are elected members of the CAEA State Council. Their mission is to connect with members in their Division throughout the state to support advocacy, leadership, professional learning, and recognition of their constituents' work in art education.